4 Simple Ways to Give Your Boat A Fresh Look
Summertime is a great season for making upgrades to your boat! Here are 4 easy ways to give your boat a new look and feel, to spruce up appearance and keep things exciting.
1. Detail Your Boat!
A complete detail will make any boat look fresh. Pull the boat out of the water and give it a thorough washing with a marine approved boat wash. Follow that up with your favorite wax and you'll be sure to turn heads the next time you're on the water. Don't forget the interior! Take a vacuum to get into all the nooks and crannies you can find. If you've got an AquaMat® in your boat, this can be a great time to pull the pieces out, hose down and hang them up to air out in the sun! If your upholstery needs attention, there are a variety of products available specifically designed for marine vinyl.
2. Upgrade Your Canvas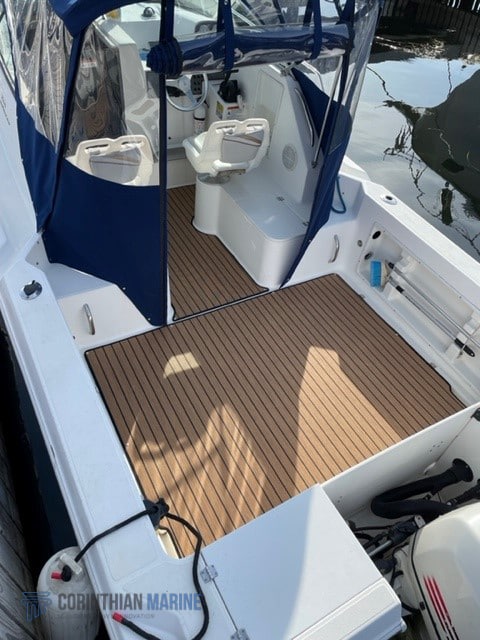 So many of our Certified Dealers are also expert canvas fabricators! A new bimini top or flybridge enclosure can drastically change the silhouette of your boat. These days, there are hundreds of colors and materials to choose from. While also providing shade from the scorching sun on a blistering day, bimini tops or shade structures on your boat can also be eye catching and flashy depending on what color(s) you end up choosing! Shade can also provide additional protection from excessive exposure to your boat's interior components.
3. Add Decals or a 'wrap'
Vinyl graphic film technologies have greatly improved in the last 5 years. With that, the boating industry has seen a huge surge in demand for marine specific boat wraps. Essentially, one can upgrade the entire exterior of their boat without needing to go to a paint specialist, or without needing to sand down an entire boat to prep for new paint. Designs for these vinyl graphics can range from basic to extravagant and can definitely upgrade a boat's appearance quickly. Just make sure to take care of your boat's exterior according to your manufacturer and installer's specifications for a long lasting wrap. Find out if your local dealer provides graphics services by reaching out to them directly. Our Dealer Finder provides contact information for hundreds of certified marine experts.
4. Upgrade Your Flooring!
One of the absolute simplest ways to enhance the appearance of your boat is to install new flooring or replace the old existing carpets. If you've got a pontoon or bass boat, the process can be a little more involved, generally you'll need to remove furniture and then pull out your existing flooring. Corinthian has a multitude of flooring available off the roll, that we can cut to the perfect length for your boat! If you have a fiberglass lined boat, or are just looking to cover up your existing flooring, AquaMat® by Corinthian Marine can be a quick and easy upgrade that is sure to turn heads and spark conversation of your guests. AquaMat® flooring from Corinthian Marine is available in over 40 different material options, ranging from sleek and modern AquaWeave™ to the classic Premium Cut Pile, so there is something that will accent any boat's interior and make your boat stand out from the crowd!