Introducing AquaWeave: Next Generation Marine Flooring
Introducing AquaWeave: Next Generation Marine Flooring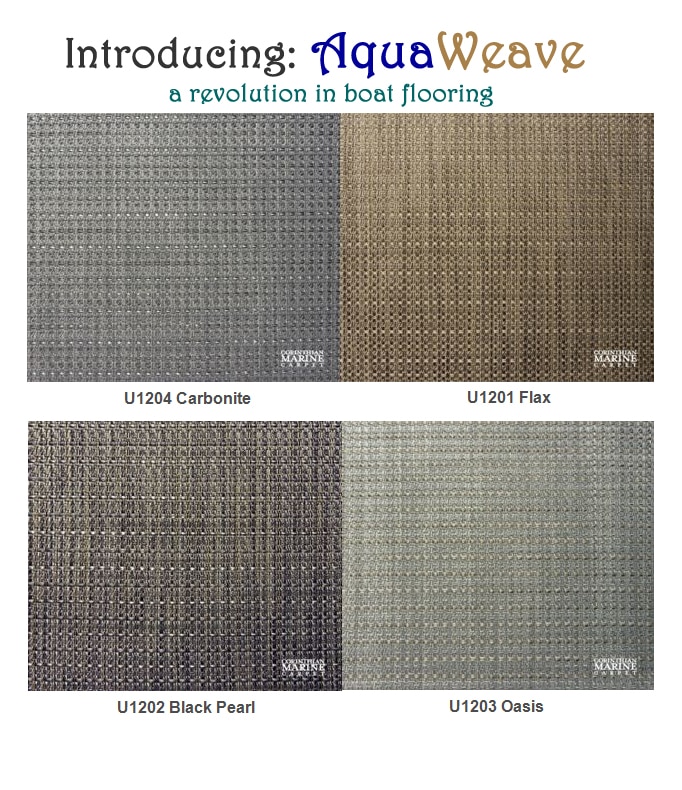 Corinthian Marine Carpet is excited to introduce our next generation of marine flooring
Marine carpet alternatives, such as woven vinyl flooring, are among the hottest trends for marine interiors.
AquaWeave™ is a combination of vinyl and marine carpet yarns woven together to add depth and texture.  
What makes AquaWeave™ a great alternative to boat carpet? 
Corinthian Marine's AquaWeave ™ is finished with HydraFelt™, a new backing system with urethane foam and marine felt. Perfect for marine mats but also works for glue down applications and as carpet savers or overlays over existing carpet.
AquaWeave's HydraFelt™ backing will not melt to the deck, degrade or crumble like other marine flooring backing systems, yet it still has a soft, cushioned feel underfoot.
It is also the only flooring in the industry treated with MicroBan™, an anti-microbial that will help to prevent mold and mildew.
Will AquaWeave™ work for my boat? 
AquaWeave™ is available for  finished AquaMat® boat mats and as a glue down material.
At 102" wide, it will accommodate almost any mat size. But it's the look of  AquaWeave™ that really sets it apart; the carpet yarns add dimension and richness of texture that is far superior to anything else on the market.
With over 20 styles and colors to choose from, there is one perfect for every taste and situation.
Get a sample to really appreciate it in person or reach out to us directly to get a quote!