What Makes HydraFelt™ Backing by Corinthian Marine So Versatile
What Makes HydraFelt™ Backing by Corinthian Marine So Versatile
Versatility is an excellent quality for any product that you are looking to purchase, but especially when it comes to your boat's flooring.
HydraFelt™ is a highly-versatile backing that can be successfully adapted and used in several different applications on your boat.  
It is a marine-grade backing developed by Corinthian Marine that bridges the gap between glue-in carpet and drop-in/snap-in removable mats. It's versatile because:
It can be paired with AquaWeave™, which comes in a variety of patterns and colors
Installation is simple
It's comfortable, yet durable
It's fast drying
Below, we'll dive into the details of what HydraFelt™ is and exactly what makes HydraFelt™ backing so versatile, so you can determine if it is the right backing for your boat.
What is HydraFelt™ backing?
Simply put, HydraFelt™ is a urethane foam that is covered with a non-woven felt.   The urethane foam is applied using a liquid fusion process (unique to Corinthian Marine HydraFelt™ ) that is then followed by the marine grade felt. Liquid fusion provides a superior bond to simple lamination of the backing to the face material.  The superior bond makes it highly unlikely that the urethane foam will pull away or delaminate from the face material. When an inferior product delaminates, the result can cause the face material to wrinkle, stretch out of shape, and possibly tear, and there is no way to fix this problem.
What makes HydraFelt™ backing so versatile?
Versatility and flexibility are hallmarks of HydraFelt™ backing and, when combined with a stunning AquaWeave™ facing, you have the ability to upgrade your marine flooring and really have a product that will give you many years of superior service.  Below, we've highlighted a few reasons why HydraFelt™ backing is such a versatile product.
Reason #1: It can be paired with AquaWeave™, which comes in a variety of colors and patterns
With a beautiful  AquaWeave™ (woven vinyl) top in a variety of colors and patterns, including many teak and plank options, HydraFelt™ backing can be used in your boat in several different ways with equally great results.
Reason #2: Installation is simple
One of the important uses of  HydraFelt™ is as a glue-in alternative to marine carpet.  With an appropriate solvent free marine grade adhesive, installation is relatively simple. HydraFelt™ can also be used as a removable drop-in or snap-in mat. AquaWeave™ with  HydraFelt™ mats are lighter in weight than other available options making them easy to handle. Another successful use of  HydraFelt™ backing is as a DIY option where you cut to fit the  AquaWeave™ to cover over older glue-in carpet that you don't want to rip out.   If you have older glue-in carpet that is still in good condition on the sides or walls (but not on the floor), then you can pick out an  AquaWeave™ with  HydraFelt™ backing that complements your carpet and install it only on the floor. You can also use this same idea if you cut to fit the  AquaWeave™ and place it on your floors to serve like your auto mats do in your car.  This helps save your existing glue-in carpet on your boat from age, dirt, wear, and deterioration.
Reason #3: HydraFelt™ is comfortable, yet durable
HydraFelt™  provides a nice cushion underfoot whether you purchase a removable mat or choose a glue-in application for your boat flooring needs.   Of course, the same excellent cushioning applies to DIY cut to fit applications over existing carpet. Our customers have told us over the years that other drop-in or snap-in mat products backed with exposed, raw foam deteriorate over time causing a migrating mess of foam crumbles all over the deck of their boats. Abrasion from the non-skid pattern on the floor combined with direct exposure to air and the elements cause the foam to deteriorate and crumble.  You can rest assured that this will not happen with  HydraFelt™ because the non-woven felt covers the foam and protects it — stopping this process from happening. Of course, it also protects your deck and prevents crumbling foam from getting trapped within the skid pattern like so many other products.  Who wants to clean up that mess?  You don't!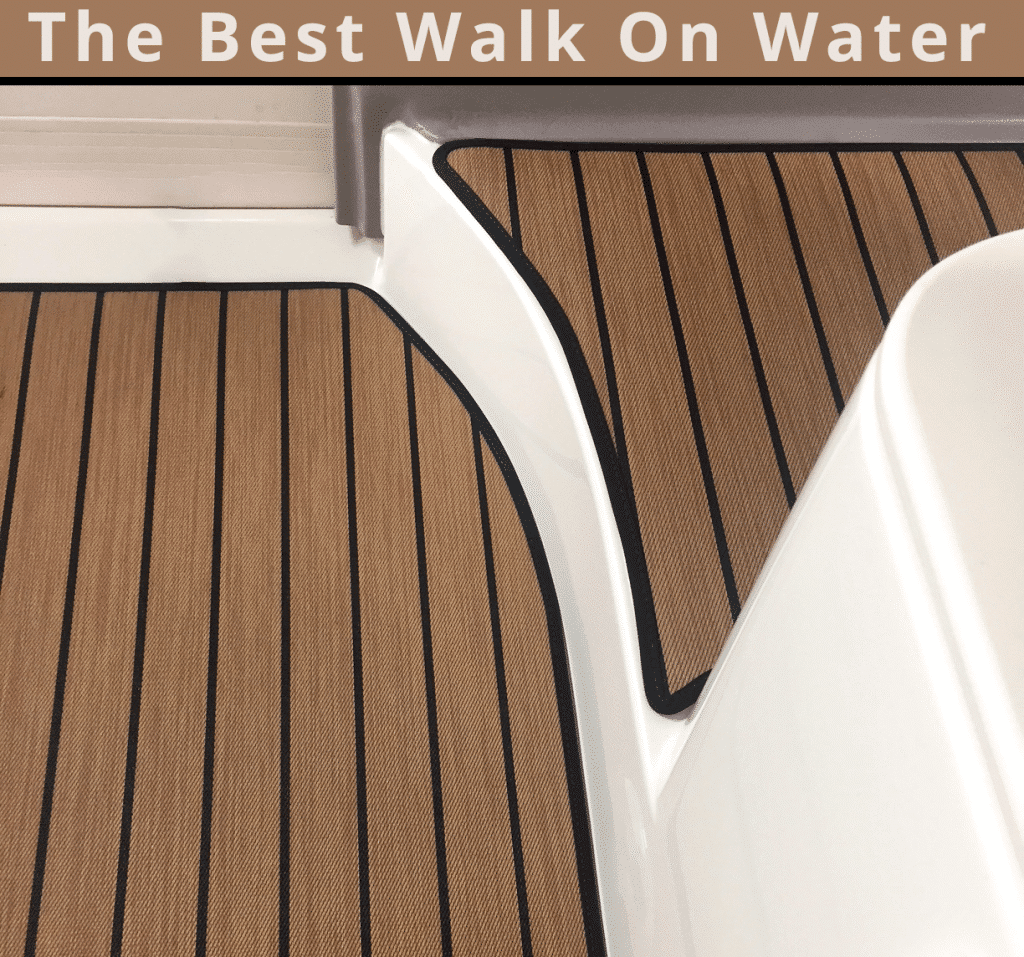 Reason #4: Fast drying
It is important to note that  HydraFelt™ is very fast drying. After all, this is a marine grade backing and was designed with the expectation that it would encounter water on your boat. HydraFelt™ holds much less water than a foam backing alone. Raw foam alone will act like a sponge and attract water while HydraFelt™ repels it. The non-woven felt layer protects the cushioning foam, so it acts like a barrier to water.  If your removable mats get wet, you can easily hang them up to air dry. Glue-in applications of  AquaWeave™ with  HydraFelt™ backing, as seen on newer pontoon boats, can also stand up to the elements and are quick drying as well.
Ready to install HydraFelt™ backing?
If you are considering whether 
AquaWeave™
with HydraFelt™ backing is the right marine flooring for your specific boat  application,  then please
contact Corinthian Marine
 and let an experienced representative assist you with any questions or concerns you might have. We are here to insure you have a great experience with marine flooring.  Let us show you  
why we have the reputation of being the Best Walk on Water®.