Comparing EVA Foam Flooring to AquaWeave™
EVA flooring has become increasingly popular for watercrafts over the last few years. We just attended a boat show where it seems every boat on display had EVA in one place or another… But why?
EVA flooring is a popular choice in marine environments for a variety of reasons: its lightweight, it does not absorb water, it has a nice feel under foot, and it looks cool with infinite multi-color designs.
But the advantages do come with a cost—EVA foam flooring is more expensive. Alternatives such as woven vinyl products like AquaWeave™ from Corinthian Marine can offer all of the same benefits at a fraction of the cost. In fact, we have found that EVA flooring is upwards of 100% more expensive than an AquaMat® for the exact same floor. When customization options and laser engravings are added, an EVA set for your boat may be as much as 3 times as expensive as a similar AquaMat® set. That does not include the cost and hassle of installation!

See the AquaMat® Difference for Yourself and order 3 FREE samples! Browse styles now.
The other major downside of EVA flooring is its lack of abrasion resistance. Take a look at all these pictures of brand-new boats with EVA that is already discolored, scratched or gouged. These are on brand new boats on showroom floors. Imagine what the flooring will look like after one season on the water.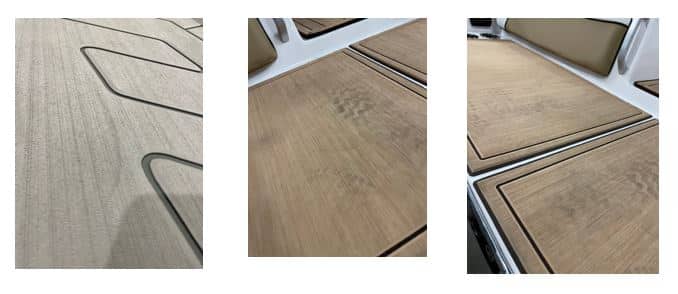 Corinthian Marine has been working with the marine industry for almost 40 years and have partnered with marine business owners all across the country. For a lot of our Certified Dealers and customers, their biggest complaint about EVA is often how difficult it is to remove from fiberglass decks. It takes a large amount of very strong adhesive to adhere EVA foam, and when it is inevitably damaged or stained it takes hours of labor to remove. Often the sheets of foam must be chipped away or pulled off piece by piece, leaving a jagged, sticky mess of adhesive on the boat. In some cases, you can sand or melt off leftover adhesive, but it's a delicate balance to remove without damaging the gel coat.
Countless horror stories exist across the popular boating forums and YouTube channels of people pouring in hours and hours' worth of elbow grease only to end up with a partially finished job.
"What I was left with is scary… It's a joke. I can't get this stuff up to save my soul. I've worked two days and barely have an eighth of it 'clean' –and 'clean' is a relative term. There are still black marks that won't come up no matter how hard I scrub."
-maegan
"This was enough to convince me never to put [it] on."
-arctic_f250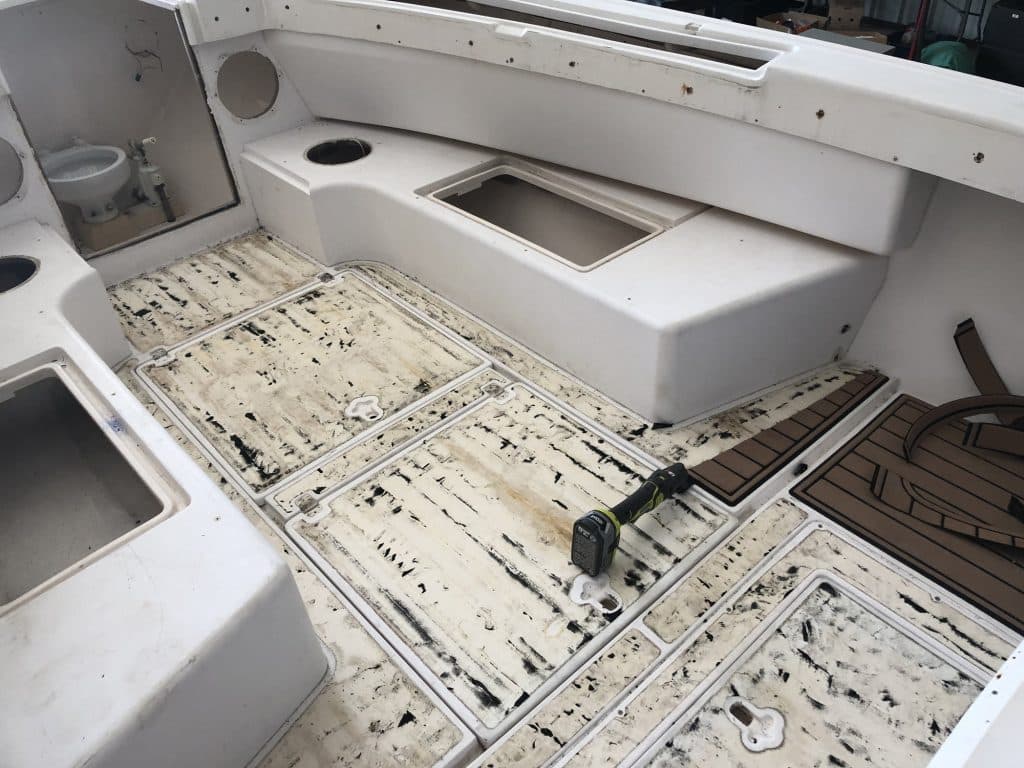 Save yourself the hassle and choose longevity and wearability over the "cool factor" of the current trend. Your boat is going to last for many years so your flooring should too! There are other options that offer an excellent solution and peace of mind, such as an AquaMat® by Corinthian Marine. It is the most durable, long lasting, good looking, affordable and easily replaceable flooring available for the marine environment. Do yourself a favor and invest in the Best Walk on Water!