We are over the moon with our new Corinthian woven vinyl flooring! I knew it was going to be a definite upgrade from what we had and we are blown away with the quality of your product and customer service!
-- Jayne Endeavor 36
We received the shipment of the pontoon carpet we ordered very promptly and we are very pleased with the service, delivery and the quality of the carpet.
-- Judy – Kentucky: F1603 Aqua –Glue-in Carpet
Thank YOU for your help in getting our carpet made. We installed it this weekend and it was GREAT. You were correct – the backing is so nice, there is no need for the snaps! The color is perfect – much better than the original gray. Your lady who did the binding did a lovely job with all the corners.
-- Vicki Sullivan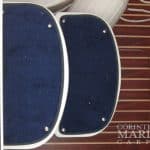 Job install went well. Customer is happy. Will continue to promote your product.
-- William Gardner – Jacksonville, FL: William Gardner Associates
We had been looking for something a little classier than the Bayliner factory boat carpet and we came across Corinthian Marine. We are very pleased with the quality of the boat carpeting. It is really thick with a nice heavy rubber backing and is much nicer than we expected. The great thing is that the fit was perfect. I was hesitant doing the template long distance via email but it was very simple, straightforward and it was as if it were a custom installation. We couldn't be happier with Corinthian Marine and it's amazing how nice our boat looks. What a difference!
-- Stuart and Bridget Royston – Pagosa Springs, CO
I'm following up with a note to say "thank-you very much" to you and the staff at Corinthian Marine in Portland for the outstanding service you provided to me recently. I am still amazed with the speedy turnaround you were able to provide with our custom boat carpeting order.
On Monday afternoon, July 18th, a friend drove to Corinthian Marine and dropped off our custom template for the aft deck carpet for our boat. Since this was my first time submitting a custom template, I was somewhat concerned that it may not fit just right. I was totally amazed to receive the custom carpet here in Seattle on Thursday, just three days later…WOW….and to my amazement, it was perfect! Every curve and cutout on the custom AquaMat® carpet was cut and bound perfectly.
I will certainly be sharing our outstanding Corinthian Marine experience with other boaters, and I'm happy to endorse Corinthian Marine as a top marine carpet source. Thank-you again for your excellent service.
-- Cameron Strong – Seattle, WA
I received the replacement mat a couple of days ago, and opened the package last night. It looks perfect! I cannot wait for the weather to break and install them on my boat. Thanks for all of your help and attention- hard to find the quality of service and customer commitment that you and Corinthian Marine have demonstrated to me. We have close to 900 boats at my marina, and to say the least, you will be highly recommended!
-- Drew Robertson – Martinsville, IN
Absolutely Perfect! Installing my new Corinthian boat carpet was better than I could have dreamed. The workmanship is first rate. The people at Corinthian were courteous and more than willing to answer all of my initial questions and assist me in placing the order! The order was expedited beyond my expectations. Can't wait to show my boating friends how great it looks! Thank you so much for the great job.
-- Richard Jack – Rochester, MN
The quality of the AquaMat® boat carpeting is excellent, the fit couldn't be better and our overall experience with Corinthian Marine Carpets was 100%. We look forward to future business with Corinthian.
-- Chris Lutomski – Detroit, MI: Group One Marine, Ltd.
I just wanted to thank you for all the help with my boat carpet. Purchasing the carpets through you was easy. They look great and make the boat look newer. The carpets are high quality, actually better than my originals. The Aqualoc backing is remarkable, I decided NOT to install the snaps like I had before. (I know you told me I would not need them) There is no need and now I won't be stepping on hot stainless snaps. I am sure I will have many years of satisfaction.
-- Jim Rosamilia – Portland, OR
These guys are extremely good to work with and will make sure you are satisfied. Trust me, there are complications to the sizing and snap layouts on these boat carpets. Go with someone who has figured boat carpeting out (I was the test pilot and we got it right).
-- Timon Paleologos – Auburn, AL: 2004 Ski Nautique SV211
Corinthian Marine AquaMat®s make upholstery jobs look more professional.
-- Mark Auguletto – Apoka, FL: Auguletto Custom Upholstery – 1992 Sea Ray